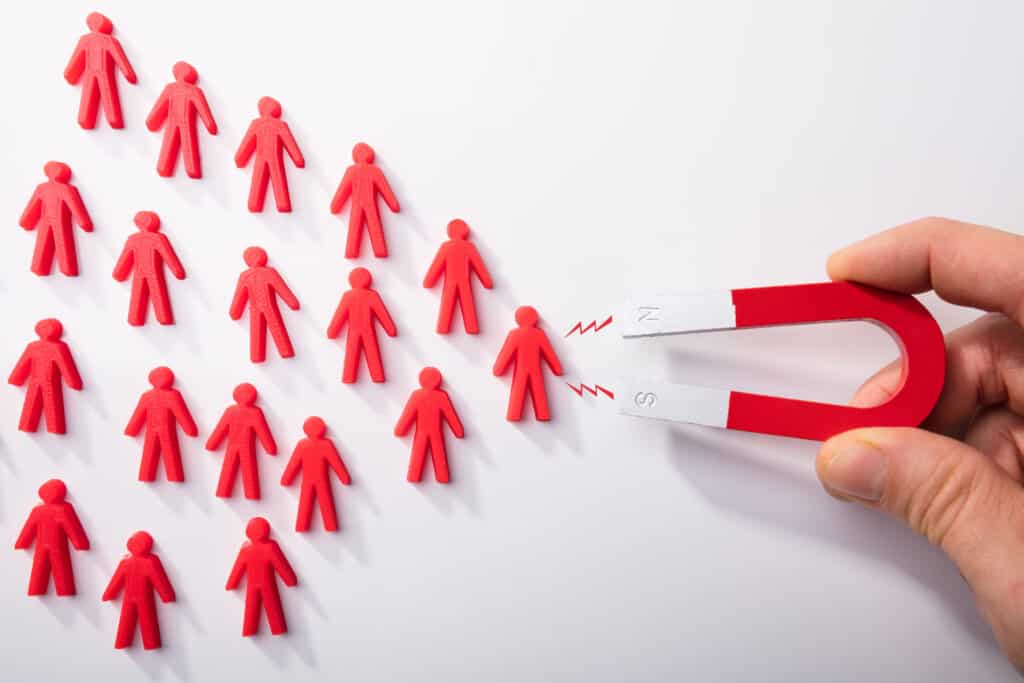 Even before you decided to pursue your California real estate license, you were probably familiar with the term "leads" as it relates to business. But if you're a new real estate agent, or are about to be, there's a chance you may be wondering, "What are leads in real estate?" — let alone real estate leads for new agents.
So, What Is a Real Estate Lead?
In simple terms, a real estate lead is the name and contact information of someone who may become a client at some point. When you look at it this way, nearly everyone is a lead. Couldn't just about anyone want to buy or sell a home with you at some point?
Not exactly.
In more technical terms, a real estate lead is the name and contact information of someone who has shown some interest in working with you, and now they're in your "database" — the place where you keep track of your leads.
Your database may be housed on a Customer Relationship Management system (CRM), or something similar. Before technology became commonplace in real estate, agents kept these in files or rolodexes (and some who have been in the game long enough still do).
Why Real Estate Leads Are Important
Leads are important because they're the foundation of any real estate business. The more high-quality leads you have, the more high-quality business you'll likely generate if you know how to nurture those leads into paying clients.
Since many real estate agents don't receive a salary for their work, mastering lead generation and lead nurture is the direct path to a thriving real estate business.
Now that you know what a real estate lead is, you might be wondering, how do real estate leads for new agents work?
In this article, we'll go over:
Traditional real estate lead generation

How to generate real estate agent leads online

And how to generate leads as a new real estate agent
Fortunately, with the help of tools like social media and online listing portals, there are more ways than ever to grow your database of leads.

Traditional Real Estate Lead Generation
Since the business of real estate began, relationships have been the lifeblood of building clientele.
With traditional real estate lead generation, real estate agents aim to create new relationships with activities like:
Knocking on doors in neighborhoods where they'd like to help people buy and sell

Attending social gatherings like cocktail parties, community events, or professional networking events

Participating in social hobbies like sports and volunteer work

Sending out flyers to homes in their chosen market introducing themselves, providing market information, or presenting listings

Prospecting expired leads or "For Sale By Owner" listings
Since these activities require getting out into your local market to meet people, they require some extra planning and legwork.
When it comes to generating real estate leads for new agents, any of these strategies can work with enough confidence and consistency.
And, of course, keep in mind that getting started is the hardest part.
It's not uncommon for new real estate agents to start building their clientele from people they know, like friends, family, and acquaintances.
The good news?
Once you start to build up your immediate sphere of influence, you can start asking people within it about who they know who might need your services.
In fact, this "referral" strategy is one of the best ways to generate real estate leads.

However, one common mistake new real estate agents make when it comes to asking for referrals is simply asking open-ended questions like, "Who do you know?" or "Do you know anyone who needs a real estate agent?"
Instead, you're sure to have more success when you can first pinpoint someone in your client's social circle whom you'd love an introduction with, or if you can ask more specifically, "Who do you know in your neighborhood who might be looking to sell their home in the next 90 days?"
Asking a more specific question helps them think of someone on the spot rather than saying they'll get back to you later.
How to Generate Real Estate Leads Online
Generating real estate leads online is one of the best ways to generate real estate leads for new agents these days.
Leads can develop online in a number of ways, including:
Organically through your website or social media

Directly from paid ads

Or directly through online real estate listing portals
While each of these deserves its own deep dive, what's important to know is that online lead generation can be the best way to connect with potential clientele, with paid ads being the quickest.

When you pay for ads, you're telling a platform like Facebook, Instagram, LinkedIn, or Google exactly who you want to target, and creating an ad that grabs that perfect prospect's attention.
From there, your ad will either direct them to a web page you've created to get them to fill out a form, download a free valuable resource in exchange for their email address, or maybe have them book a call with you.
Ads don't always achieve "overnight success," but they're the closest any real estate agent can get.
On the other hand, maintaining a regular website, blog, and social media presence can attract prospects to you without having to pay for them. This can take more time (anywhere from 3-6 months to see any significant results), but once your efforts pick up traction, they can save you a lot of money on lead costs over time.
Free Guide: Accelerate your rise to the top with this free guide just for new real estate agents.
How to Generate Leads As a New Real Estate Agent
Overall, any of the strategies mentioned here can generate real estate leads for new agents.
The key is to block time every single working day to dedicate to lead generation and to stay consistent with follow-up efforts since most leads need multiple interactions to build trust and connect with you.
Additionally, there are plenty of professional networking groups available to join in most major cities, and your broker or brokerage should also be able to help with showing you the best lead generation practices that have worked for them.
Need help getting your real estate career off the ground?
If you're ready to start taking steps towards earning your California real estate license, Allied is a reliable, accredited choice. We've helped over 350,000 students become real estate agents, and our supportive, experienced instructors are ready to help you take the first step towards a fulfilling career in California real estate.