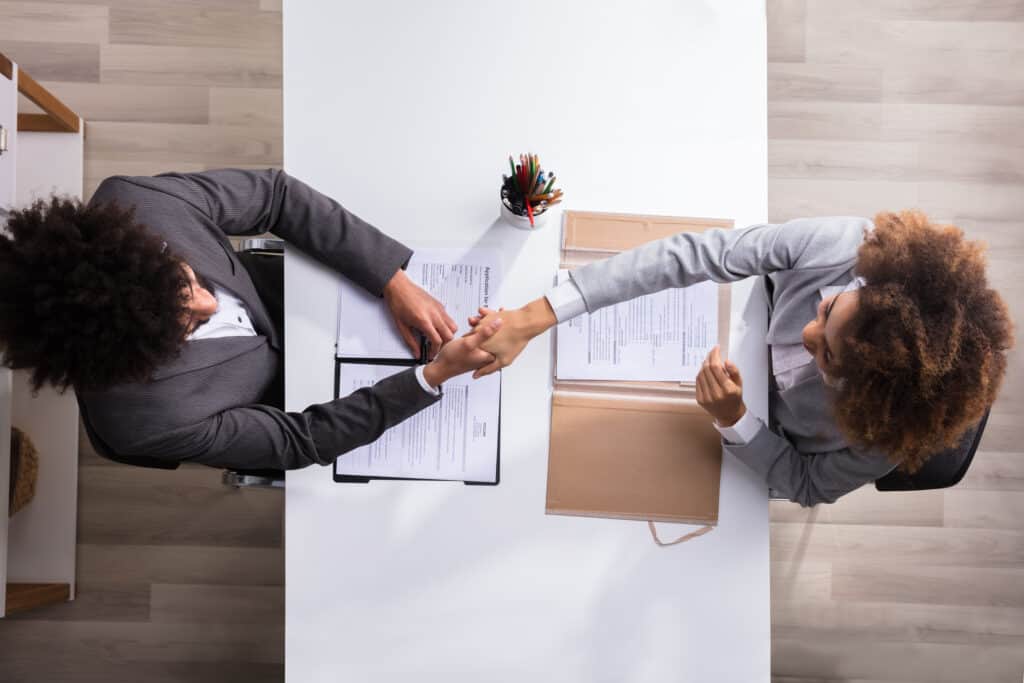 Choosing the brokerage you'll work for is one of the most exciting parts of becoming a real estate agent. This is the part of the process where being a real estate agent begins to feel "real" and you start to get a sense of what your day-to-day career will look like. 
At this stage, you'll have questions like:

What do real estate brokers do?

What are the typical hours for a real estate agent?

Which real estate brokerage is the best to work for?
Fortunately, there are simple answers, and learning how to choose a real estate brokerage to work for depends mostly on your personal preferences. In fact, when you're deciding how to choose a real estate brokerage to work for, it's important you ask the right questions and use interviews as a two-way conversation to find out if the fit is right for you, and not just the other way around.
Here are some questions you may want to consider asking when you're deciding how to choose a real estate broker to work for:
"How long is the training provided?"
When you're first starting out, your brokerage is where you'll receive most of your formal training and on-the-job training. That means knowing how to choose the right brokerage to work for means choosing the one that meets your needs and expectations when it comes to training and mentorship.

Keep in mind, it takes most new agents about six months to a year to achieve consistency in their business, and during that time, it's great to have the support of a strong training curriculum and mentorship.

If the brokerage you're interviewing has up-front training that meets your needs, a smart follow-up question would be to ask if they have any ongoing training for seasoned agents.
"Do you provide photography for listings?"
Naturally, excellent photography is one of the most important aspects of marketing your listings. Some of the top brokerage firms provide photography services for their agents, but some don't. It's important to know, especially if you have a certain marketing budget to stick to when you're just starting out.
If the brokerage you're interviewing doesn't provide those services, it's up to you to decide if you can afford to outsource. If you can, you may want to ask if there are any local photography companies they'd recommend, or if they have any restrictions about outsourcing.
FREE Guide: Choose the brokerage that is right for you with this free Brokerage Comparison Guide.
"How does your commission split work?"
For some, this is the most important question to ask when deciding how to choose a real estate brokerage to work for. In general, big real estate companies tend to have similar commission structures, although a few are competitive.
Some of the factors to consider when asking about a brokerage's commission splits are:

What is the brokerage's role in lead generation?

Will you receive done-for-you marketing materials?

And again, what does the training look like?
These factors are important because while some brokerages may offer a bit less in commission, they may offer much more than other companies as far as leads, marketing, and training.
This is why it's important to map out what's most important to you before you start this process, so you can decide if your budget and goals align with your prospective brokerage.
"Do you have a transaction coordinator?"
A transaction coordinator is someone who handles tasks like scheduling inspections, coordinating appraisals, and generally overseeing the details and paperwork involved in a transaction from start to finish.
If your prospective real estate brokerage doesn't have one of these, you'll need to keep in mind that you'll either need to hire one or take care of these details yourself. In other words, you may have to spend either a little more time or a little more money to get these tasks handled.
Key Takeaways
Overall, it's best to walk into your brokerage interviews prepared to ask these questions and address anything else you find important to your future success in real estate. Your brokerage is ultimately where you'll spend the first few years of your career — if not your entire career — and it's important to choose wisely.
Want to Stay On Top of Your Continuing Education?
Allied Real Estate School offers all the continuing education you need to keep your California real estate license active, and all the support you need to complete it quickly and easily.