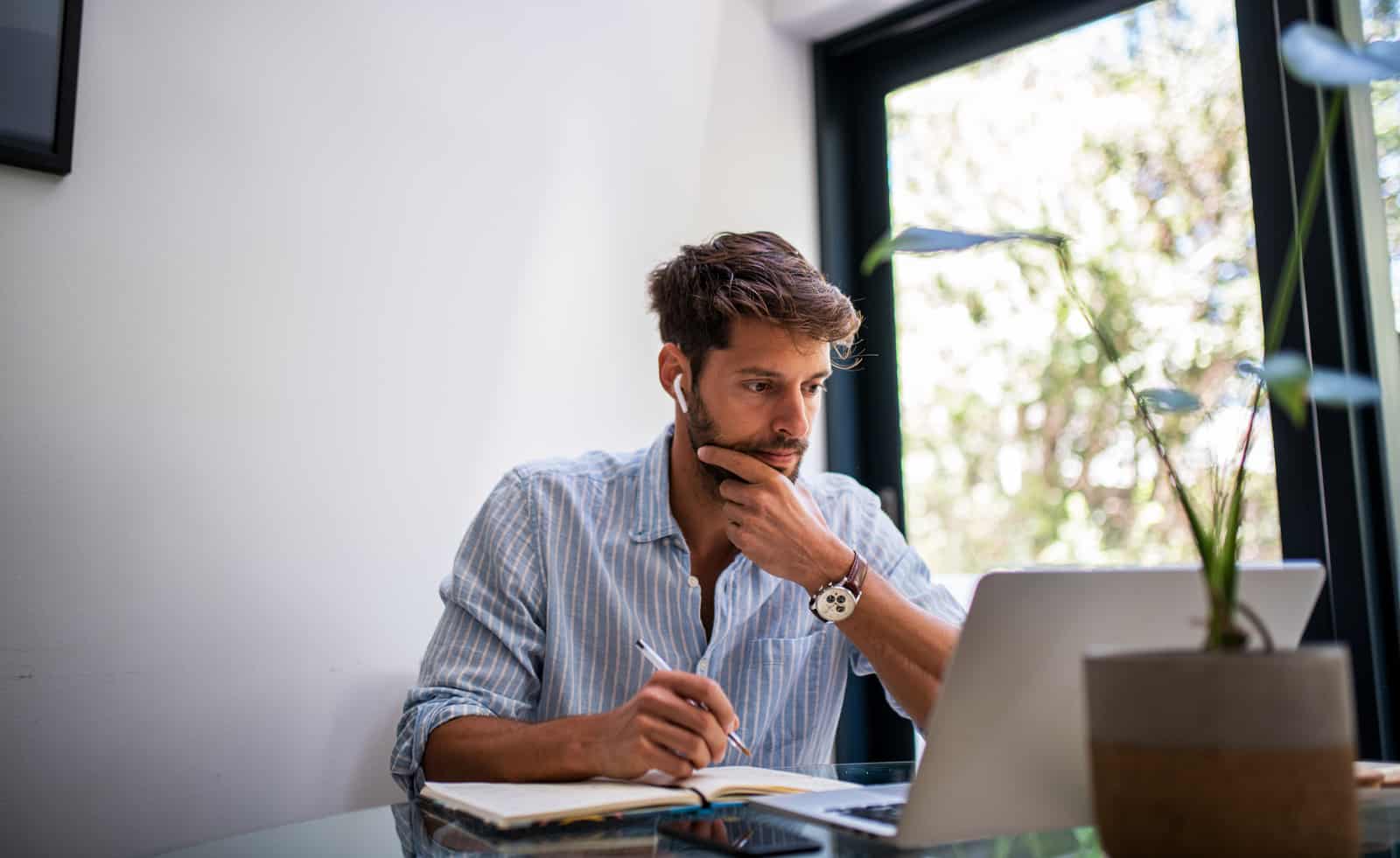 Thinking of earning your California real estate license, but don't have the time to take the required real estate classes in person? You're not alone.
Getting your California real estate license online is becoming a popular option for aspiring real estate agents—and there are plenty of options to choose from.
Often, pursuing your California real estate license online can be:
More affordable
More flexible
And quicker to complete
To be clear, while it's possible to receive your pre-licensing education online, it is not currently possible to take the California real estate license exam online.
However, since 135 hours of education are needed to qualify for the California real estate license exam, having the option to knock those hours out on your own time from any digital device is a great way to complete those hours—especially if you're a working professional and have other responsibilities.
What to Expect
Taking your California real estate license education online looks a bit different, depending on which online real estate school you choose.
At Allied, we offer a few types of self-paced learning packages as well as livestream classes that give you a more of a "live" or in-person experience.
For instance, our packages are based on need and learning styles.
If you're a self-starter and master test-taker, we have a streamlined package that offers all your textbook material, live instructor access, and practice exams.
On the other hand, our "Premium Plus" packages include all that, plus extra resources like digital flashcards, a real estate dictionary, exam prep videos, and a "Pass or Don't Pay" guarantee.
In other words, as you look for where to train for your California real estate license exam, it's important to know what kind of learner you are and how much time you'll have to dedicate to your program.

Accreditation Matters
Another essential component of choosing an online real estate school is making sure you find one that's accredited by the state of California.
This means the online school offers courses that are approved and required by the state before you can take your exam.
These courses include (but are not limited to):
Legal Aspects of Real Estate
Real Estate Appraisal
Real Estate Economics
Real Estate Escrow
Real Estate Finance
At Allied, we're proudly accredited by the state of California, as well as the Association of Real Estate License Law Officials (ARELLO) and the International Distance Education Certification Center (IDECC).
Pay Attention to Pass Rates and Guarantees
Since students statewide complete the same required courses before taking their California real estate license exam, the biggest difference among online real estate schools is the quality of instruction.
A good indicator of a school's quality of instruction? Their pass rates.
In fact, the reason Allied consistently achieves high pass rates is because even though we offer self-paced education, we also offer lots of live support.
It doesn't matter if you decide to take our most basic learning package or our intensive livestream package, we make sure you have access to experienced instructors whenever you need them.
In addition, our learning packages that include extra study resources offer a "Pass or Don't Pay" guarantee.
We believe if you don't pass your California real estate license exam with a 70% or more with our extra support, you shouldn't have to pay.
So, as you explore online education options, be sure to pay attention to schools' pass rates and guarantees.
Free eBook: Learn how to increase your earning potential as a California real estate professional with this free ebook.
Mind Your Schedule
If you do choose a self-paced online option, setting an intentional schedule for learning and studying is critical to your success.
Even if you have experience with online education, it's important to set these clear boundaries with yourself and those around you so you have enough time to get your coursework and studying done.
Fortunately, online class descriptions typically let you know about how much time it will take to complete the class. This will help you work it into your schedule so you know you have enough time each week to give it the attention it needs.
Is Earning Your California Real Estate License Online Right For You?
Overall, opting for an online pre-licensing education is a great option for busy professionals who want to make the switch to real estate, or those who don't want to waste any time on their way to their California real estate licensing exam.
The good news is, even if you're still not sure if online learning is right for you, most schools have advisers you can speak to about what to expect from their online real estate school.
At Allied, we have helpful advisers ready to help you any time.
To learn more or get in touch with us about starting your pre-licensing education online, click here.