California State Required Pre-licensing Hours: 135 hours
Allied California Course Hours Offered: 135 hours
Step 1. Meet the general California real estate license requirements as outlined on the California Department of Real Estate website:
Be at least 18 years old
Must be honest and truthful. Conviction of a crime may result in the denial of a license. Failure to disclose anycriminal violation or disciplinary action in an applicant's entire history may also result in the denial of a license.
Step 2. Complete an approved 135 hours of pre-licensing education.
Step 3. Apply for the salesperson examination.
Step 4. Submit fingerprints for a criminal background check.
Step 5. Successfully pass the California real estate licensing exam by earning a score of 70% or higher.
Step 6. Obtain sponsorship from a licensed California broker.
Step 7. Complete the California Real Estate License application.
How long does it take to get a California real estate license?
On average, it takes between five (5) and six (6) months to get a California real estate license depending on the pace in which you complete the 135 hours of pre-licensing courses and pass your licensing examination, the time it takes you to complete the application process and find a sponsoring broker, and application processing times.
What kind of information will I learn to help me get a real estate license in California?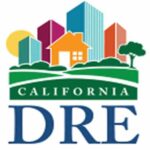 All Allied Courses are approved by California Department of Real Estate. Once completed, you are eligible to sit for the California Real Estate License Exam. Approval # S0410
Per Allied policy, the 135-hour pre-license coursework for salespersons must be completed within twelve (12) months of the start date. The required courses within the 135 hours include:
Real Estate Principles (45 hours)
Real Estate Practices (45 hours)
One course from the following list:

Real Estate Appraisal
Property Management
Real Estate Finance
Real Estate Economics
Legal Aspects of Real Estate
Real Estate Office Administration
General Accounting
Business Law
Escrows
Mortgage Loan Brokering and Lending
Computer Applications in Real Estate
Common Interest Developments
Note: If you are a member of the California State Bar, you are exempt from the college-level course requirements. Evidence of admission to practice Law in California must be furnished, such as a photocopy of both sides of a California State Bar membership card.
VIEW COURSES AND PACKAGES
How do I apply for the California real estate licensing exam?
The salesperson examinations must be taken through the California Department of Real Estate. The state requires that you achieve a score of 70% or higher to pass. Allied will help you prepare for the California real estate licensing exam. You will learn at your own pace and get tools to set you up for success in your future career.
You will need to complete a Salesperson Examination Application and submit it along with the required fee andtranscripts showing successful completion of the statutory college-level real estate courses and degrees. Once qualified, an Examination Schedule Notice or an authorization to self schedule will be sent to you. Use the eLicensing online system to check your exam date or to self schedule.
If you are not qualified at the time you submit your application and fee, you will be notified in writing and you will have two (2) years from the date of receipt of the application in which to complete the qualifications and take the examination. If you do not qualify for and pass the examination during the two-year period, the application will expire and you will need to submit a new application, fee and other required documents.
How do I submit my fingerprints for the background check?
An applicant for any real estate license must submit one set of classifiable fingerprints, acceptable to the State Department of Justice (DOJ). An applicant may be fingerprinted after applying for examination or after passing the examination. Fingerprint processing fees are not refunded if applicants do not pass the examination. Social security numbers are required on examination applications to ensure fingerprint reports are received by the DRE.
Fingerprints must be submitted electronically through the DOJ's Live Scan Program which takes and transmits fingerprints to the DOJ and the Federal Bureau of Investigation (FBI). An original license will not be issued until a report from the DOJ and the FBI is received stating that there is no criminal history, or disclosing criminal history information which then must be reviewed and evaluated. To be fingerprinted, take the Live Scan Service Request Form to a live scan service provider. There is a $49 fingerprint processing fee and also a live scan service fee which should be paid directly to the live scan provider (not to the DRE).
How do I submit my California Salesperson application?
Those who pass the examination will be sent a Salesperson License Application. This form must be completed and returned along with the appropriate fee within one (1) year after passing the examination. The completed Live Scan Service Request must be submitted with the application. A license cannot be issued until DRE receives fingerprint response information. Evidence of completion of Real Estate Principles, Real Estate Practice, and one additional course from the course requirements list as well as proof of sponsorship from a licensed California broker must be on file before the license is issued.
Does California offer reciprocity?
California has no reciprocity with any other state to allow a waiver of any of the requirements to obtain a license.
In applying for the real estate broker or salesperson examination, evidence of completion (i.e. transcripts) of the statutory courses in out-of-state institutions is acceptable if the institution is accredited by the Western Association of Schools and Colleges or a comparable regional accrediting entity, and each course provided for three semester-units credit or four quarter-units credit.
Out-of-state residents must:
File a Consent to Service of Process with the DRE. This form must be completed, signed, notarized, and submitted to the DRE with the original or renewal application.
Submit their fingerprints directly to the DRE. A fingerprint card will be provided with the original license application. It should be taken to a local law enforcement agency for completion.
Submit the appropriate fingerprint fee with the completed fingerprint card, original license application, and license fee to the DRE.
Be licensed with a California broker if engaging in business in California.
Regulatory Notes:
The state requires a minimum amount of seat time in the course content. Our online course platform monitors this requirement for each student. Students cannot receive credit for completion of a course in less than 18 days, therefore, the first attempt at a course final exam is not accessible until at least the 18th day after starting the course (provided the student has completed all units and unit quizzes). If a student fails the first attempt at the course final exam, a second attempt will not be available until 18 days have passed since the first exam was failed. If a student fails the final exam for a course twice, then the student has failed the course. In order to receive credit, the student will need to re-register for the course, complete all units and unit quizzes in the new course, and pass the course final exam.
Obtaining Certificate of Course Completion: Upon completion of the course, Allied will provide you an electronic certificate of completion in your account dashboard.  You may need to submit your certificate of completion with your license request, please refer to your license application to determine if this is necessary.  Course completion dates are recorded using Central Standard Time, therefore that will be the time reflected on your certificate.
California Department Of Real Estate
Website: http://www.dre.ca.gov/
Phone: 877-373-4542
Fax: 916-263-8943
Address: 1651 Exposition Blvd, Sacramento, CA 95815
ENROLL TODAY