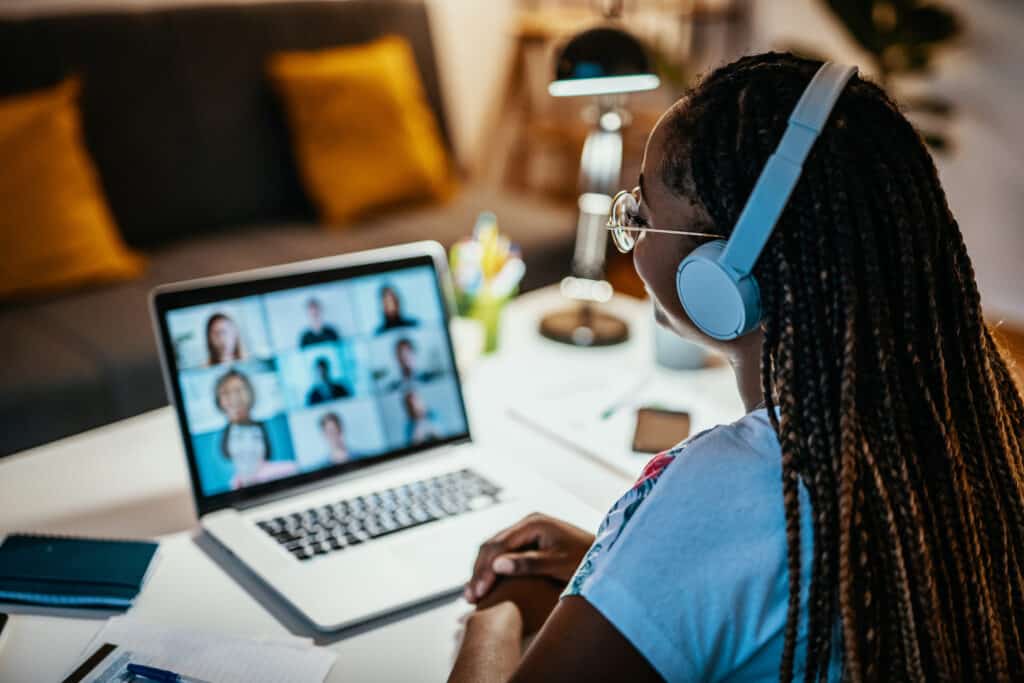 Online real estate school is a popular choice for aspiring real estate agents these days, and for good reason: it's one of the most convenient ways to transition out of another full-time career into one that you'll love.
Except, if you're on the fence about getting your real estate education online or in-person, you may be wondering things like:
"Is it better to take classes online or in-person?"

"Are online real estate classes legitimate?"

"Will I get enough support?"

"Can I really fit studying into my schedule?"

"Is real estate hard to learn on your own?"
While these are smart questions to ask, it should give you peace of mind that it's easier than ever to study for your real estate license online. In fact, the benefits of investing in online real estate education far outweigh most people's concerns.
1. Online Real Estate School Is Typically More Affordable Than In-Person Classes
As you can probably imagine, there's less overhead involved in operating an online real estate school than a brick and mortar school. So, it makes sense that some of those savings are passed onto students who choose to learn online.
Plus, without a commute back and forth to in-person classes, you save on gas money, too.
For some, the lower price point may bring up concerns about quality and legitimacy. But don't be fooled—there are plenty of legit online real estate courses that are accredited and approved by the California Real Estate Department. And, as long as the online real estate school of your choice is accredited, your education there counts towards your real estate license exam.
At Allied, we go far beyond just being an accredited school with a state-approved curriculum. Here, students enjoy the lower cost of online education and a dedicated staff who's available around the clock to help them succeed.

2. Online Courses Are Typically Quicker to Complete
If you choose to do your real estate license training online through a self-paced program, you'll likely complete your required 135 hours of training quicker than if you take the training in person.
As long as you hold yourself accountable for getting your work done and reach out to get the support you need when you get stuck, it's easy to move through the material quicker than you would if you had to follow along in-person week to week. This is one of the most common reasons people choose to take their pre-licensing education online, and it's a great way to get ahead.
3. It's Easy to Work Into Your Schedule
Again, if you're taking self-paced training online, it's up to you how quickly (or slowly) you go. For many real estate agents, real estate is a second career—meaning they transitioned out of another career to pursue real estate.
For those who can't take the leap right away, completing your pre-licensing education online is a great way to make the transition without having to fully step out of your current career or make any significant shifts in your schedule.
4.) You Can Still Receive Live Instruction
If self-paced learning isn't for you, but you don't have the time to commute to in-person classes, it doesn't mean online real estate school is out of the question.
At Allied, we also offer livestream real estate courses to accommodate those who don't want to commute, but still want or need the extra support of a live instructor.
This is a great option for people who need a little more structure, but still need the convenience of an online format.
5.) You Can Learn From Anywhere
From a big picture perspective, if you want to relocate to California as a real estate agent but you're not yet a resident of California, online real estate school makes it possible to receive your training before you relocate.
And from an everyday perspective? Online real estate school allows you to study where you're most comfortable — whether that's at home, the library, or a coffee shop.
In other words, if you're set on breaking into California real estate, online real estate school makes it possible under almost any circumstances.